Certain brands of infant Ibuprofen Oral Suspension Drops affected by the recall include Equate sold at Walmart, Family Wellness brand sold at Family Dollar stores, and CVS brand. The ibuprofen may contain concentrations of the drug as high as 10% above the listed limit. This can be a risk to infants, potentially causing permanent kidney damage. Other effects can be nausea, vomiting, stomach pain, and diarrhea.
Parents or caregivers can contact the maker, Tris Pharma, at their Customer Service line 1-732-940-0358 to see if their bottle is part of this recall. Or you can click here for more details and information from the FDA recall website.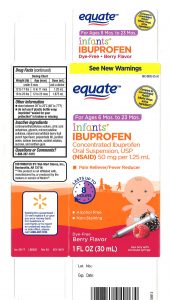 For more information on this or other recalls visit the Food and Drug Administration Safety Recall website.