This week is National Child Passenger Safety Week – it's a good time to take a moment and check if your child's seat is still the right fit.  Kids grow like weeds, they may outgrow their seat in height or weight before you even know it.  Check your car seat's height and weight limits to make sure your child still fits. And did you know that lower anchors also have a weight limit?  If you use the lower anchors to secure your child's forward-facing seat, check the manual to see what the weight limits are.
Is it time for your child to move to the next size seat?  Check out The Ultimate Car Seat Guide from Safe Kids.  It's an interactive online tool for caregivers to find the right car seat for your child's needs.  Some parents are anxious to move their child into the next size up but it's important to remember that each step up in car seats is a step down in safety.  The safest seat is a rear-racing seat with a 5-point harness.  By the time a child moves up to a booster seat and switches from the 5-point harness to using the vehicle's lap/shoulder belt your child is much less protected.  That's why Maine law requires that children riding in booster seats must be at least 4o lbs., and most booster manufacturers today also require the child is over 4 years old. Here's a quick reference chart from the Nat'l Highway Traffic Safety Administration: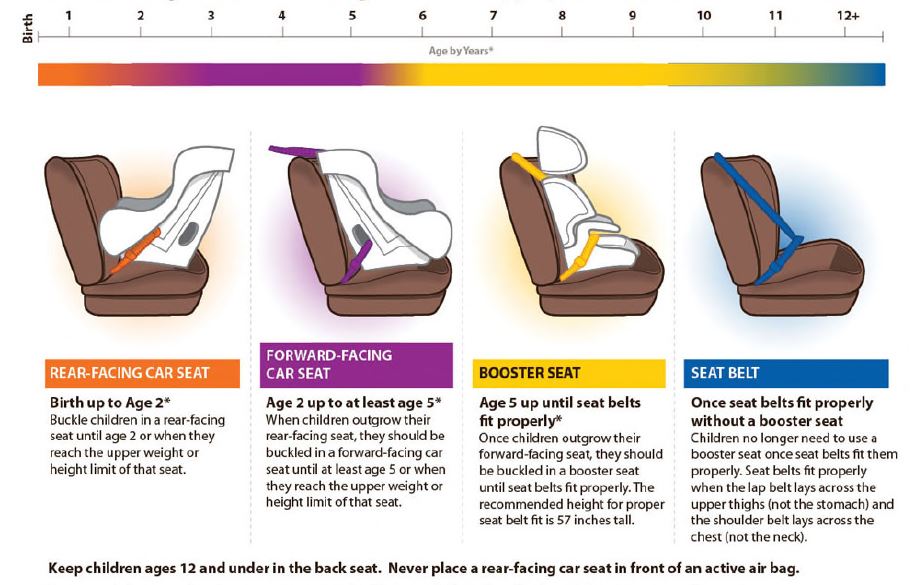 If you have any questions about your child's seat, whether it's the fit, the size, the installation… contact a certified car seat tech to help you find answers to your questions.  Friends and family have the best intentions, but car safety is a constantly changing field and requires hours of training each year to keep up with the latest information and technology.  So when it comes to your child's safety, it's a good idea to check with the specialists.
Maine Families has two certified car seat technicians on staff to help answer any car seat questions you have. So call us at 255-0481 for questions or to make an appointment for a seat check.
If you have a special tip you'd like to share click here to go to our contact us page, we'd love to hear from you!