Delta, the makers of the jogging stroller "J is for Jeep", are recalling certain models of strollers because one of the leg brackets can break and baby can fall. If you own one of these strollers stop using it immediately and contact Delta to see if yours is a part of this recall. You will need the Model and Lot number which can be found on a sticker attached to the stroller leg (see photo below).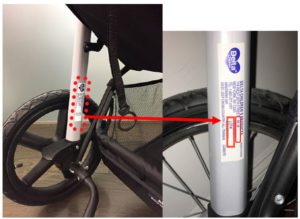 Call Delta at 1-800-377-3777 or you can go online to their recall center here.This stroller is sold in Walmart and Target stores.
For more information on this or other recalls check out the Consumer Product Safety Commission's website.