Evenflo has recalled nearly 30,000 combination booster seats.  The button that tightens and loosens the harness strap on the "Evolve 3-in-1" car seat is located where the child riding in the seat can reach it — and loosen the harness while riding.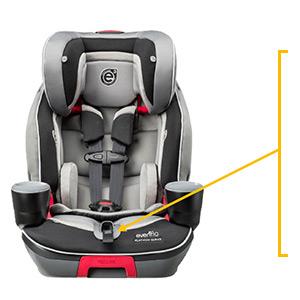 The Harness Adjustment Button is located under a plastic shield between the occupant's legs.
If you own an Evolve, contact Evenflo at 1-800-233-5921 or click here to see if your model is part of this recall.  If it is, Evenflo will send you a free repair kit with instructions on replacing the harness release button.
For more information on this or any other product recalls go to the US Consumer Product Safety Commission's website at www.cpsc.gov