This Friday Healthy Acadia along with Machias High School volunteers are offering a free community supper to celebrate the work of Martin Luther King, Jr.  It's a great opportunity to talk to your kids about the impact of Dr. King's Nobel Prize winning work on civil rights and social justice and encourage them to think about ways they can get involved in our community through helping others.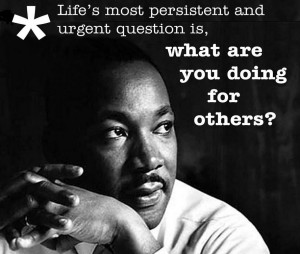 Here's an invitation from Friday's event organizers:
Healthy Acadia's AmeriCorps Anti-Hunger and Opportunity Corps VISTA and FoodCorps Service members will host a free community supper from 4:30pm-7:00pm on Friday, January 15, for all to celebrate the life and work of Dr. Martin Luther King, Jr. and the many volunteers who serve our communities. The event will be held in the Machias Memorial High School (MMHS) cafeteria, with dinner and dessert provided by the MMHS Culinary Arts students. All are welcome to attend this chem-free, family-friendly event. For more information, please contact Gretchen: gretchen@healthyacadia.org or Kiel:kiel@healthyacadia.org or 255-3741. The snow date for this event will be Tuesday, January 19.
Click here for more information on the life and work of Dr. King and how you can get involved in serving your community and help celebrate the upcoming holiday: Martin Luther King, Jr. Day of Service.