This week is National Child Passenger Safety Week — Join with us and help us spread the word about car seat safety! The latest data shows that motor vehicle crashes are the leading cause of death for children from 1 – 13 years old. Sadly, many of those deaths could have been prevented with just a little extra education around car seat use. That's why SaferCar.gov and the National Highway Transportation Safety Association (NHTSA) are bringing together car seat techs, experts, and parents in a special Twitter Chat today.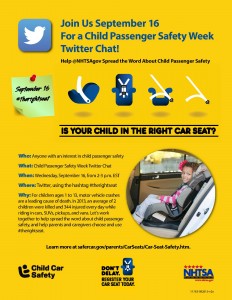 Get in on the conversation using the hashtag #therightseat from 2p – 3p and learn, share, and help raise awareness about car seat safety, using the right seat for your child, and getting the right fit for your car.
Remember, Maine Families has two certified car seat technicians on staff to help answer any car seat questions you have. Peace of mind when transporting your kids or grandchildren is priceless – but our services are FREE anyway! So call us at 255-0481 for questions or to make an appointment for a seat check.
If you have a special tip you'd like to share with our readers click here to go to our contact us page, we'd love to hear from you!