Heads up parents, there are now two ways for your kids to get in touch with Santa before Christmas comes this year. With a little help from the Machias Bay Area Chamber of Commerce your kids can choose to write Santa a letter, or you can arrange for the jolly elf to call them on the phone.
The MBACC has set up a special mailbox in the Chamber's office for kids to post their letters in. A group of volunteers will be answering the letters so make sure your child's envelope has a return address on it.
The Chamber has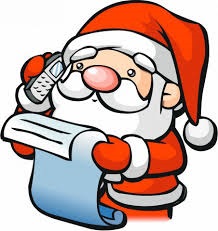 also arranged for parents or family members to sign the kids up for a phone call from Santa. For a fee, a volunteer representing Santa, Mrs. Claus or a toy-making elf will call your child or even your houseful of children. The deadline to sign up for a phone call is December 16.
Volunteers who participated last year have said that they enjoyed making the call as much as the children enjoyed receiving them.   For more information about either program or if you are interested in volunteering to write letters or make calls contact Susan at the MBA Chamber office 255-4402, or click here to go to the MBACC website. The Chamber office is located at 11 Main Street in Machias.