The scary truth is that 9 out of 10 car child car seats are installed or used incorrectly. No matter how careful we are, there are just so many different car seats available today and just as many differences in how they operate with your car.
Are you using the lower anchors or the seat belt to install? Did you know lower anchors have a weight limit? Do you know how to switch your car's seat belt to the "automatic locking" position? Are you using the top tether? Are the harness straps supposed to be above or below your child's shoulders? There are trained car seat safety techs all over Washington County that can help you find the answers to these questions and work with you to make sure you are getting the best use and the safest fit with your child's car seat.
Click here for a list of certified safety technicians in your area or stop in at the next local Safety Check event. These safety checks are free! You'll learn a lot of great information and know your child's seat is in right, plus you'll have the confidence to know how to install it right every time. The next one scheduled locally is: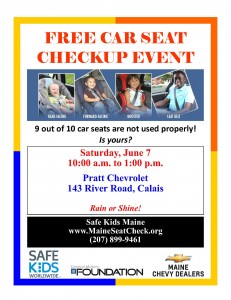 DATE: Saturday, June 7
TIME:  10am – 1pm
LOCATION: Pratt Chevrolet, 143 River Road, Calais
All seat check-up events are held rain or shine!