Now that Spring has truly arrived here in Washington County, we can look forward to seeing our local farmers bringing in their fresh fruits and vegetables to our county's Farmers Markets. Nothing is fresher or healthier for you and your family than when it comes directly from the farm to your table.  Did you know you can use your WIC vouchers to purchase produce right at the farmers market?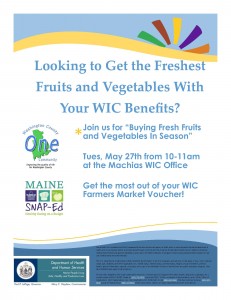 Joe Ferrier, our local SNAP Nutrition educator, is holding a 1 hour mini-workshop on how to make the most of using your WIC vouchers to purchase fresh fruits and vegetables in season.
Come down to the Machias WIC office, Tuesday May 27 from 10am – 11am to learn more from Joe.
To learn more you can contact Joe directly at 255-3741.
Click here for more information on the WIC Program or to search for your nearest WIC office.