Evenflo has issued a voluntary recall on certain models of their harnessed car seats. The crotch buckle on the harness can get stuck in the latched position so that the harness cannot be released. Evenflo has determined that over time the buckles can get food or other particles inside them which can cause them to stick.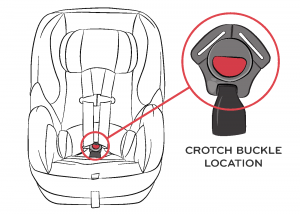 If the crotch buckle on your child's car seat is not showing signs of sticking Evenflo says there is no need to stop using them to transport your child safely.
Click here to find which Evenflo car seat models are being recalled and how to order your buckle replacement kit if your car seat is on the list.
You can also call Evenflo Customer Service at 800-490-7591 to order the remedy kit over the phone.
Evenflo recommends periodic cleaning of the crotch buckle to remove any debris from building up inside of it.  Click here for step-by-step instructions on how to clean your harness buckle.
For more information on these or any other product recalls go to the US Consumer Product Safety Commission's website.