Graco has issued a voluntary recall as they have found that food and dried liquids can cause their harness buckles to become difficult to use and some may get stuck in the latched position.
Call Graco Customer Service at 800-345-4109 to see of your model is part of this recall and to order the replacement parts.
Graco is also recommending that if your harness buckles are sticking to try the following steps to clean the buckle:
Cleaning Tips for Harness Buckles:
To clean your buckle, turn the restraint over and push the retainer through the harness strap slot. Place the buckle in a cup of warm water and gently agitate the buckle, pressing the red button several times while it is in the water.
Do not submerge the harness webbing and do not use soaps or lubricants, only rinse the harness buckle with warm water.
Shake out the excess water and allow the harness buckle to air dry.
Reattach the harness buckle into the same slot and re-check harness for correct installation according to the car seat manual before use.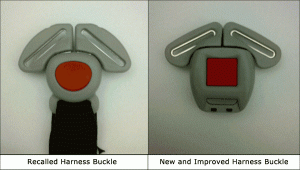 In this recall, Graco is offering a new and improved design for the buckle.  For more information on these or any other product recalls go to the US Consumer Product Safety Commission's website at www.cpsc.gov